Best European Christmas Market for 2020 | Christmas in Budapest | Visit Budapest
Updated: Aug 2, 2020
Christmas in Budapest
This year I wanted to do something a little different for Christmas. And I wanted to take advantage of Rasmus' time off. After lots of research and reading reviews I choose Budapest, famous for its Christmas markets and cheap prices.
After our arrival the Advent Christmas Markets at the Basilica won best Christmas market for 2020! And I have to recommend. There are Christmas markets all over Budapest, and they are adorable. You will find lots of mulled wine and Hungarian Christmas speciality food. I also enjoyed seeing artwork from local artists featuring the famous landmarks.
Luckily for us, my little sister was studying abroad in Sevilla, and was able to join us in Hungary. We spent a total of seven days in Budapest, and I feel like we got a good feel for the city. We stayed on the Pest side in an Airbnb above a Louis Vuitton on Andrássay Út; it was a killer location for about $60 a night. You will love the price of your vacation. Rasmus and I spent a total of $1,100 ($550 a person) after our week was said and done— and we basically were eating out everyday, getting warm drinks and buying little knick knacks.
I had fun listening to the language— unlike anything I've ever heard; someone told us it is a mix between Mongolian and the Nordic languages. And this region has a rich history. WWI was started in Austria-Hungary. Later during WWII, Hungary was evaded by Nazi Germany and then the soviet union, their history is dark to say the least. In some ways the country is still recovering, the last soviet groups didn't leave until the 1990s.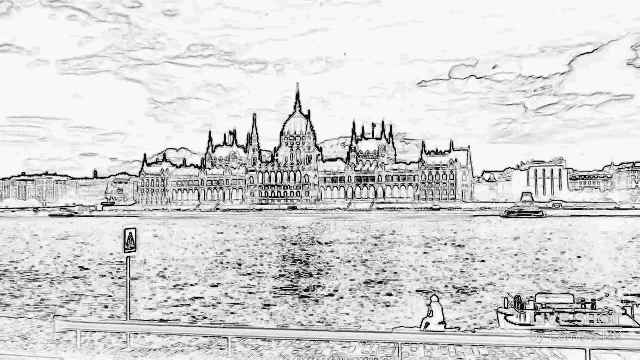 Things to Do in Budapest
Cue Budapest lyrics by George Ezra


Hungarian Parliament
This building is like the White House of Hungary; it is the largest building in Hungary. It is an absolute must-see and would be hard to miss. You can see it from the Buda side across the Danube river. The red roof and pointed domes are unforgettable.
Matthias Church
I told Rasmus if we ever get re-married, it will be here. I absolutely fell in love with this church. The way is stands on the hill is memorable, and I love the way the castle wall sits in front of it. It has been there since 1015. I love the tiled roof, is it super colorful and contrasts the white.
Széchenyi Thermal Bath
Adela, Rasmus and I really enjoyed this. You can't go to Budapest without trying a bath. The city is famous for its thermal baths. Széchenyi is the "largest medicinal bath in Europe." Nothing like getting into steaming hot water when it is freezing outside!
Buda Castle
This Baroque castle has been standing since 1265, and used to house Hungary's royals. Visit on a sunny day. It has been the backdrop for some recent movies including Will Smith's Gemini Man. It overlooks the Pest side of the city.
St. Stephen's Basilica
We stayed just a few blocks from here. This is where you will find the famous Christmas market. It was voted best for 2020! The church interior is grand, $1 donation required, do it. In December the church is filled with Christmas trees and dedications to Jesus.
(use arrow to see more photos)
Fisherman's Bastion
Situated in front of the Matthias church is this famous landmark. It features a beautiful castle wall. And if you go down in front you'll see Walt Disney's inspiration for his logo!
Hero's Square
This was super fun to visit at night with a lángos in hand. It lights up and the museums around resemble a Ben Stiller movie. In December, the lake across from hero's square turns into an ice skating rink, and they fill the park trees with Christmas lights and ornaments.
Széchenyi Chain Bridge
This famous bridge was the first bridge to join the Buda and Pest across the Danube River. It has actually been bombed down twice. Now there are giant lions on either side, symbolic, but said to be guarding the bridge.
Central Market Hall
This is Budapest's largest market hall where you will find the most local goods. There was lots of stands selling meat, nuts and spices. We loved poking around and seeing the Hungarian foods and trinkets. Be sure to venture upstairs.
Gellért Hill (Citadella & Liberty Statue)
A local told us to visit this hill at sunset, great idea. It is beautiful. Atop this hill is a statue of a woman holding up a giant palm leaf, symbolic of freedom; freedom from Germany and then Russia.
House of Terror
This museum helped me come to understand Hungary's dark history. Hungary played some big roles in WWI and WWII and is still recovering in some ways today. It is a good way to get a feel for the culture and garner some understanding of its past.
Things to Eat
A bit on Budapest food, first of all, we loved the food. But most importantly, we loved the prices. They were unreal. Beers for $1 and filet mignon for $11. We dined like queens and kings in Budapest. And we found some wondrous spots. We even ate at a 2 Michelin star restaurant, which we could never afford in other country!
Onyx
I found this place months before our travel to Budapest. Imagine white gloves magically whisking around you all night. If I turned my head they would refold my napkin or swiftly remove bread crumbs. We enjoyed a 3 course meal for about $80 a person. A TWO MICHELIN STAR PEOPLE! This is a must-do in Budapest.
(There are only three stars in Michelin restaurant ratings. One star indicates a "very good restaurant"; two stars indicate a place "worth a detour"; three stars mean "exceptional cuisine, worth a special journey")
Lángos
This is a Hungarian specialty item, very popular in the winter. It resembles fry bread and is topped with onion, garlic, and sour cream. Delicious.
Kürtőskalács
Also known as chimney cakes or spit cakes. There are sold everywhere. On Christmas day, Rasmus ordered one the size of his arm! Make sure to get a warm one, they actually steam like a chimney.
Paprika
I had no idea about this one. When we got to Hungary I was seeing what I thought were chili ristras, but were actually hanging paprika peppers. There is paprika sold everywhere and featured in nearly every dish. Yum, and for dirt cheap!
Other things...
Mulled wine..Mmmm..you can't miss it in December. Then there was Goulash, this is a warm stew with meat and vegetables that is sold in just about every restaurant. Also, there was Paprikash and Nokedli (pictured below, looks a bit like gnocchi), and this is an egg dumpling of sorts with a delicious spicy paprika sauce. Don't forget to try Hungarian wine, and if you are in the mood for a stronger drink Unicum and Palinka are your local votes. Oh, and be sure to look up Ruin Bars and go to Szimple!
Notes:
Make sure you take the metro one! It is the oldest metro in continental Europe and it is adorable. Rasmus' head touches the roof... it is tiny and had leather furnishings. The public transport is good. Use Bolt (the local Uber), and never wave down a taxi-- they will scam you.
Overall, we felt safe and the city was lovely. I really liked the ornate buildings and the water that ran through the city, parting the Buda and Pest. Very enjoyable vacation!
Things to Airbnb Experience
Coming soon— I'll write up on our beer bathing experience, our fat boy food tour and our photoshoot!
#Budapest #Hungary #Adela #Rasmus #EuropeChristmas #ChristmasinBudapest